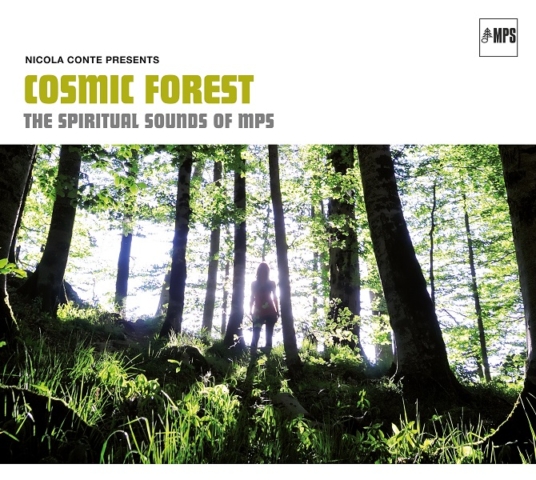 COSMIC FOREST schickt uns auf eine spirituelle Reise durch das Universum von MPS.
Seit fast 50 Jahren gilt "Musik Produktion Schwarzwald" als wichtigstes deutsches Jazz-Label der 60er und 70er Jahre. Neben jüngeren Firmen wie ECM, Enja und ACT steht es bis heute für den interessantesten und umfangreichsten Katalog des "Jazz Made in Germany", mit rund 500 Albumtiteln unterschiedlichster Couleur.
Unternehmer Hans Georg Brunner-Schwer (HGBS) ist gleichzeitig Inhaber von SABA, der "Schwarzwälder Apparate Bau Anstalt" in Villingen/ Schwenningen, als er 1965 die gleichnamige Schallplattenfirma mit eigenem Tonstudio ins Leben ruft. Drei Jahre später werden Produktionsstätte und Label dann in MPS umbenannt. Die besondere Ausstattung und hochwertige Pressqualität der meist in 500er bis 1000er-Auflagen gefertigten LPs gelten noch heute als "State of the Art". Somit ist SABA/ MPS auch das wichtigste deutsche Jazz-Label für Vinyl-Sammler.
Noch immer lassen sich weithin unbekannte Perlen des Katalogs entdecken, wie die von Nicola Conte kuratierte Compilation "COSMIC FOREST – The Spiritual Sounds of MPS" mit Spiritual Jazz der Jahre 1965-75 jetzt zeigt.
Conte stammt aus dem italienischen Bari, ist seit Jahrzehnten weltweit bekannter Musiker, Produzent, DJ und Plattensammler aus Leidenschaft, dazu einer der profundesten Kenner des europäischen Jazz. Sein besonderes Händchen gräbt stets etwas tiefer, wenn es um die Zusammenstellung einer Kompilation geht. Hier konzentriert er sich auf die spirituellen Highlights des MPS-Katalogs, befördert bekannte, aber auch obskure Schätze ans Tageslicht und verbindet die Stücke durch seinen persönlichen roten Faden.

#nicolaconte #mpsrecords #mpsmusic
https://soulgurusounds.com/wp-content/uploads/2018/09/Cosmic20Forest20-20The20Spiritual20Sounds20of20MPS-Cover.jpg
600
670
Uwe
https://soulgurusounds.com/wp-content/uploads/2018/04/cropped-cropped-Soulguru-Logo.png
Uwe
2018-09-23 19:00:00
2018-09-23 13:22:17
Nicola Conte presents COSMIC FOREST - The Spiritual Sounds of MPS • Video + full album stream • #nicolaconte #mpsrecords #mpsmusic